I posted before Christmas with some good gift ideas for preschoolers, and
you can view that here
. They are good any time of the year as well of course. I made that post with ideas from some things I had picked out for Christmas, and some things my daughter had received for her birthday a few weeks before that we loved. I haven't had a chance to post some other things we got for Christmas that we loved yet, so here it is.
More
Best Gift Ideas for Preschoolers
1. The Home Depot 18-Piece Deluxe Toolbox. This is a great addition to pretend play toys for any girl or boy. They can pretend to tinker and fix anything they desire.
2. Melissa & Doug Can Opener Play Set. This can be found at Toys R Us for a very low price and is a super fun play set. It's good for honing fine motor skills and it's a practical life skill. Pretend play in their kitchen set can become even more realistic with the addition of this play set.
3. Pinkalicious Pinkamazing Storybook Collection. This storybook collection includes six of the super cute Pinkalicious stories. It's handy to have them all together like this.
4. Little Live Pets Bird Cage - Friendly Frankie. These are so cute! They're great as a first step before getting a real pet, if you're looking to do that sometime soon. Your child can check on them every day and the more you pet them and the more you take care of them the more they talk and sing to you. Kids also get a kick out of the fact that they can record themselves saying things and hear them repeated back in a little bird voice.
5. Step 2 Puppet Theater. We love love this! It has a light that shines on the stage, a dry erase board front and marker to write the name of the puppet show which encourages early literacy skills. It also has a space in the back to store a few puppets.
6. Don't Break The Ice. This game is a classic and my daughter thinks it's so much fun! I'm sure most other kids would too.
7. Melissa & Doug Color By Dots. This is great for early preschool and for kids who aren't ready to color by numbers yet. It's also a great activity for them to do for quiet time.
8. LeapPad Ultra is the tablet I chose to get for my daughter. I think it's a great tablet and that it will last her a long while. It has both front facing and outward facing cameras. There's also a ton of apps and games available to go with it. My favorite apps/games are:
- Get Ready for Kindergarten: Rocks and Roly Polies
- Octonauts Learning Game
- Little Pim: French Volumes 1, 2, and 3
- Photo Fracture
- The Human Body: Captain Plasma's Adventure
- Disney Minnie's Bow-tique: Super Surprise Party
- LeapFrog Learning Game Letter Factory Adventures: The Rainforest
- LeapSchool: In the Kitchen with Hap
- International Food Fair
9. Sofia the First Wooden Stamp & Activity. My daughter loves Sofia and preschoolers in general love stickers and things of this nature, so this delighted her. It's great because it comes with various stampers and two colors of ink pads. There's also the little book to put stickers in and use the stampers with.
10. Fancy Nancy Storybook Treasury. Fancy Nancy books are so great and expand vocabulary in a very fun way. The price of this set is unbeatable.
11. Sofia the First Once Upon a Princess Read-Along Storybook and CD. Again with the Sofia! This book is so great because it's a long a great story. It's my daughters first story that is also on CD. I was glad to hear that the CD features voices from all the different characters in the story, sounds when they need to turn the page, and sound effects as well.
12. Hungry Hungry Hippos. My daughter thought this game was hilarious and it made for great family bonding time. She delights in playing this and family game nights are fun for all of us when we find a game we can all enjoy together like this. This one definitely makes for plenty of laughs and is a childhood favorite.
13. Melissa & Doug Harmonica. I'm trying to inspire my daughter to have a love of music and this beginners instrument is a great one to spark that. She found it in her stocking and loves it! She is already playing it well and dancing along with it.
14. Calico Critters Baby Love & Care Set. My daughter loves babies and when she got this she knew she would get to set up a nursery in her Calico Critters house. This play set has everything needed to set up an adorable nursery and take care of some babies in the house.
15. Melissa & Doug Slice and Bake Christmas Cookie Play Set. This toy was perfect for Christmas time and would get any child in the spirit. It's a great toy for pretend play. My daughter got out her baby dolls and had them each pick a icing topper to decorate their cookies with just like at her cookie decorating party we had. They are all velcro pieces and can be sliced apart during pretend play and put together in all kinds of different ways, just like the birthday cake set and pancake set.
16. Eeboo Simple Words Puzzle Pairs. These are great for early readers and can help them learn sight words easier.
17. Discovery Kids Extreme Weather Tornado Lab. This is a great learning tool for a weather unit in preschool and above. It looks so fun and is interactive, the child can press a button and hear tornado noises again and again. There is also an educational DVD about tornadoes and hurricanes included.
18. Frozen Elsa of Arendelle Doll. This doll is enchanting and any little girl or boy who loves Frozen would certainly appreciate it. My daughter has been off of Frozen for a while, but she absolutely loved this doll and wanted to bring it to the park with her.
19. Sofia the First Talking Clover. If your child loves Clover this will surely be a hit. Santa left this gift unwrapped among all the wrapped presents and my daughter ran right up and hugged it. It is super soft and says a few cute phrases when you hug him.
20. Calico Critters Burger Cafe Play Set. This is an adorable play set to add to a Calico Critters collection. If your Calico Critters have a house and need someplace else to go for a change, this is sure to be fun. They can put together burgers and pretend to order as costumers or serve as workers.
21. Water Bird Whistles. These are so cute! You fill them up with water and blow into them and it sounds just like a bird whistling.
22. Cra-Z-Art Crayons 24 pack. I usually wouldn't put something as simple as crayons on a list like this, but my daughter got these specific ones for her birthday and I really liked the colors that were in this pack. There was a lot of interesting ones and they're nice to add to your regular collection of crayons.
23. Disney Villain Classics Ursula Doll. Need I say more?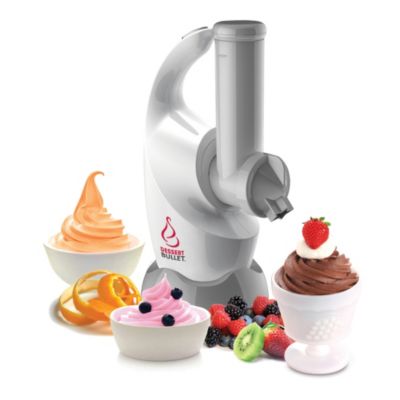 24. Dessert Bullet. I got this for Christmas, but I really asked for it for my daughter as well as myself of course. She's been loving making healthy ice cream in it with me. It's great for bonding in the kitchen and I'm glad we're finding even more ways to eat healthy fruits. Homemade, dairy free is the best ice cream there ever could be. We love this thing! It provides good opportunities to talk about ingredients and step by step processes with children when doing it together.
25. LeapTV Dance & Learn Educational, Active Video Game. You need a LeapTV to play this game, and if you do you should definitely get this game for it. It's so much fun for the whole family and when you have a play date or party for the kids it's sure to be a hit with them as well. Not to mention the literacy skills of your child will be growing while they are being active!
26. Doodle Bear - Glow Doodle. I got this for my daughter for Valentine's day, so I can't tell you how much she loves it yet, but I really am thinking that she will. This specific one also has a marker that the kids can doodle with and then turn out the light and see it glow where they doodled.